In today's digital advertising landscape, website owners continually seek innovative ways to monetize their sites. Push notifications have been around as a powerful tool for publishers to generate revenue by delivering targeted messages directly to users' devices for a while. This comprehensive guide will explain how to monetize push notification effectively with RollerAds. Without further ado, let's get the things rolling.
Why Work with Push Notifications
A significant advantage of push notifications is their relatively non-intrusive nature, which minimally affects your website's user experience (UX). Pushes appear as discreet messages that do not disrupt the browsing flow, allowing users to decide if they want to engage with them. To learn more about this marketing channel, you can proceed to our article, where we covered all the perks of this ad format.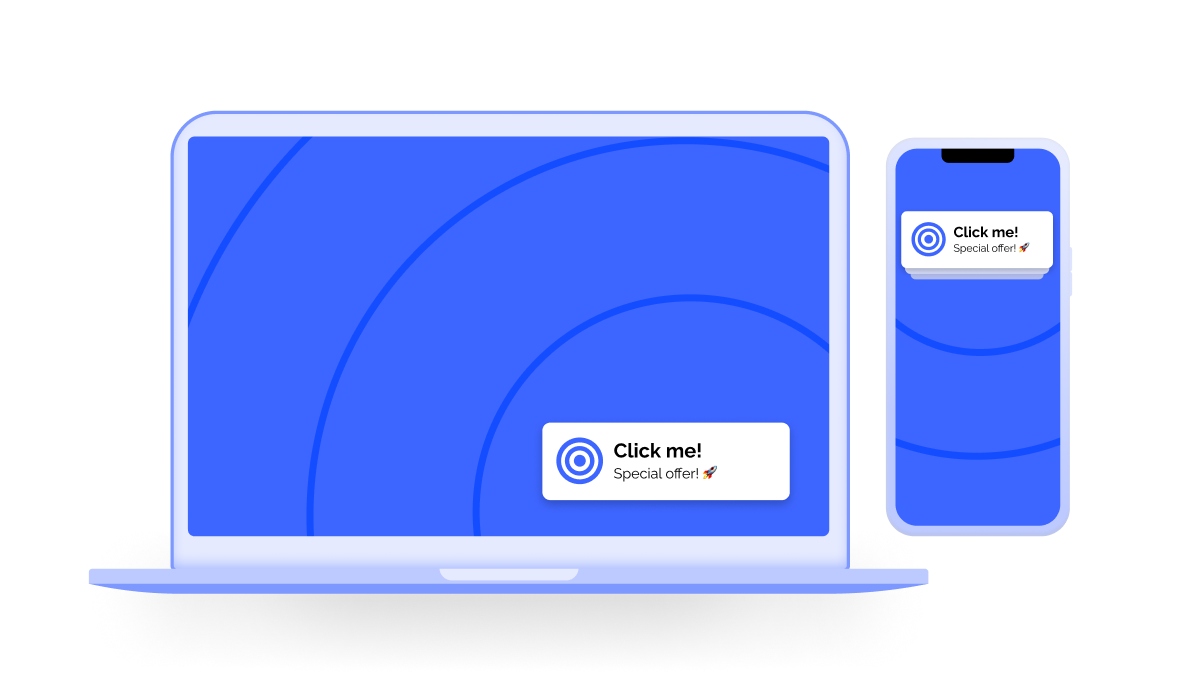 Publishers can complement other monetization methods, e.g., display ads or SEO, with push notifications, further enhancing user engagement without compromising UX.
How It Works in RollerAds
For publishers looking to monetize their website traffic, RollerAds provides a straightforward process.
Whether you run a blog, news site, e-commerce platform, or other web-based businesses, this monetization strategy can be valuable to your revenue streams. We provide all the necessary tools and technology to monetize their website traffic through push notifications efficiently.
To start earning money from push notifications, you have to complete the following steps:
Register as a publisher.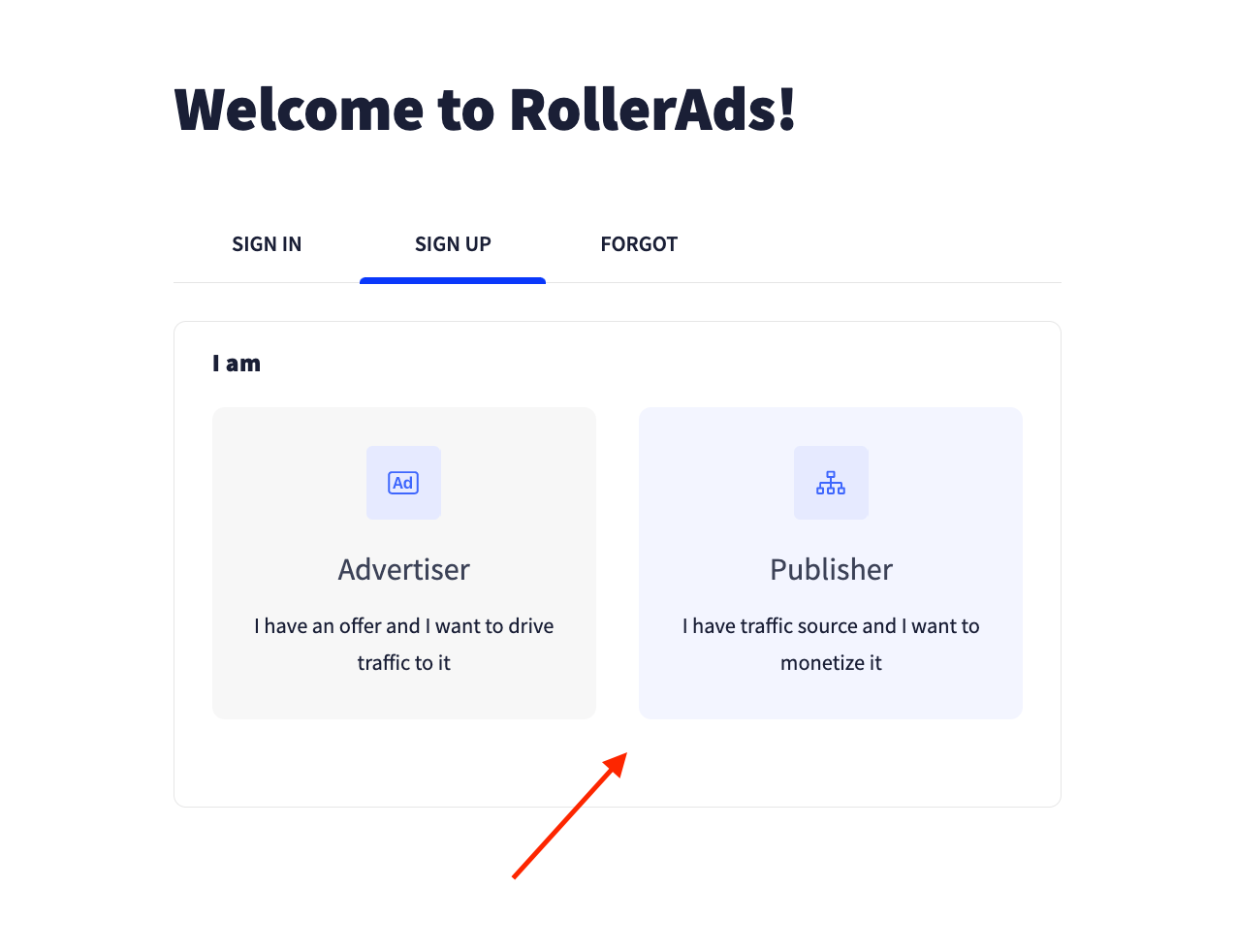 Add your website and undergo a moderation process where RollerAds managers will review your website and check if it fits our Quality Guidelines.

Install a dedicated WordPress plugin (if your site is on WP) or add a few lines of code to the site.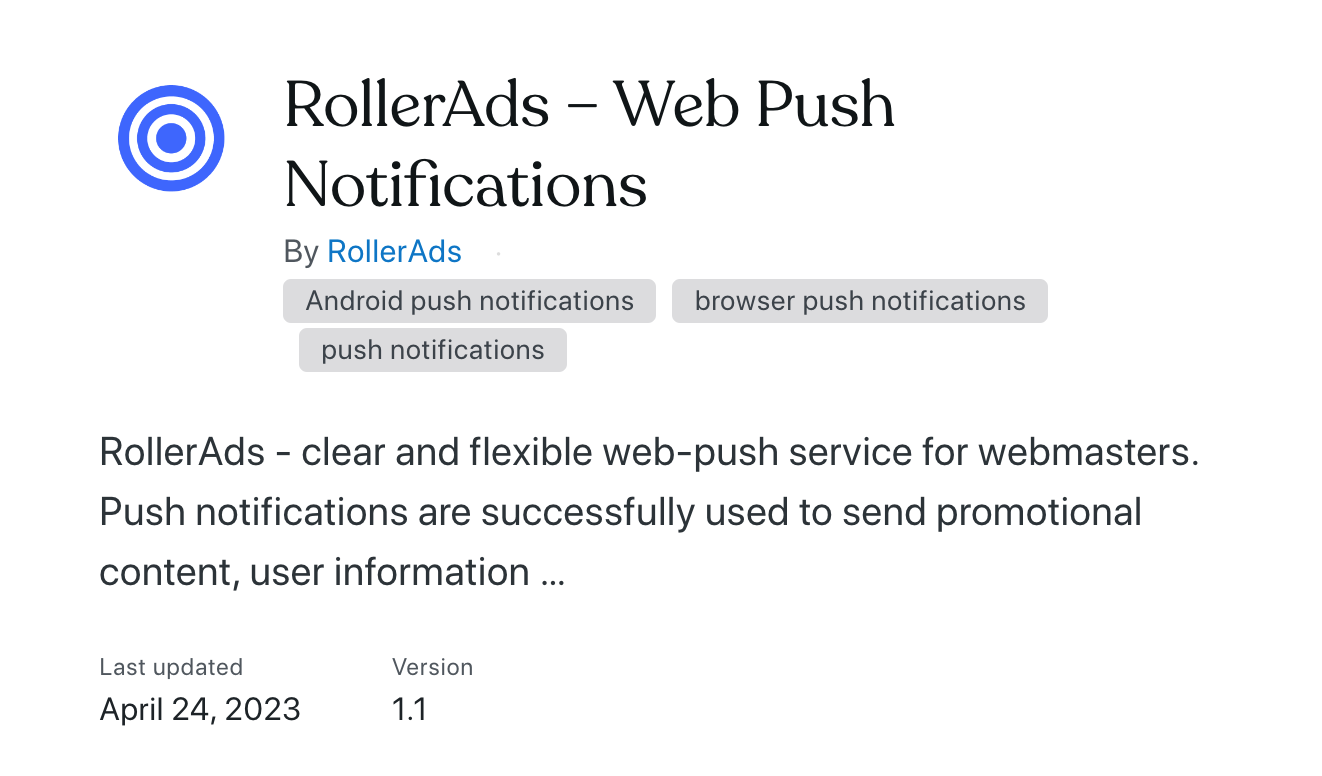 Once everything is set up, future page visitors will start getting notified if they agree to get your messages. It's a crucial step in building a subscriber base that will receive push notifications from our trusted advertisers. Your site will host the notifications and receive compensation for delivering advertisers' push notification ads to their audience.
The core benefits of RollerAds' monetization feature are:
Quick start. It doesn't require in-depth coding skills. You have to register as a publisher, go through our moderation process, and implement a few lines of code to your site. If your website is WordPress-based, then it's even easier because we have a special plugin. You can learn more about the moderation process in this article.
Detailed statistics. Our platform provides transparent and real-time statistics, giving you access to all your income data.
Various payment options. We provide almost all popular types of payment, so that you can choose the most convenient one.
Strong support. Our managers will lead you through all the moderation and setting up processes. Moreover, they will provide tips and best working strategies for your work to be pleasant and productive.
Ability to work without SSL or access to the root folder. It's not a problem for us, we can still provide the monetization service for you.
Manageable ad categories. We understand how crucial it is to keep a good relationship between you and your subscribers, so you can exclude unsuitable advertising categories.
Free ad blockers and fraud-evasion. Since pushes are delivered directly to the user's screen, its guaranteed impression count will not be affected by ad bots, which typically inhabit the web environment.
Custom subscription window and content locker. We provide a default subscription window, but you can change the text to make it more suitable for your website. Also, you can place a content locker with your text to draw more attention to a request to show notifications.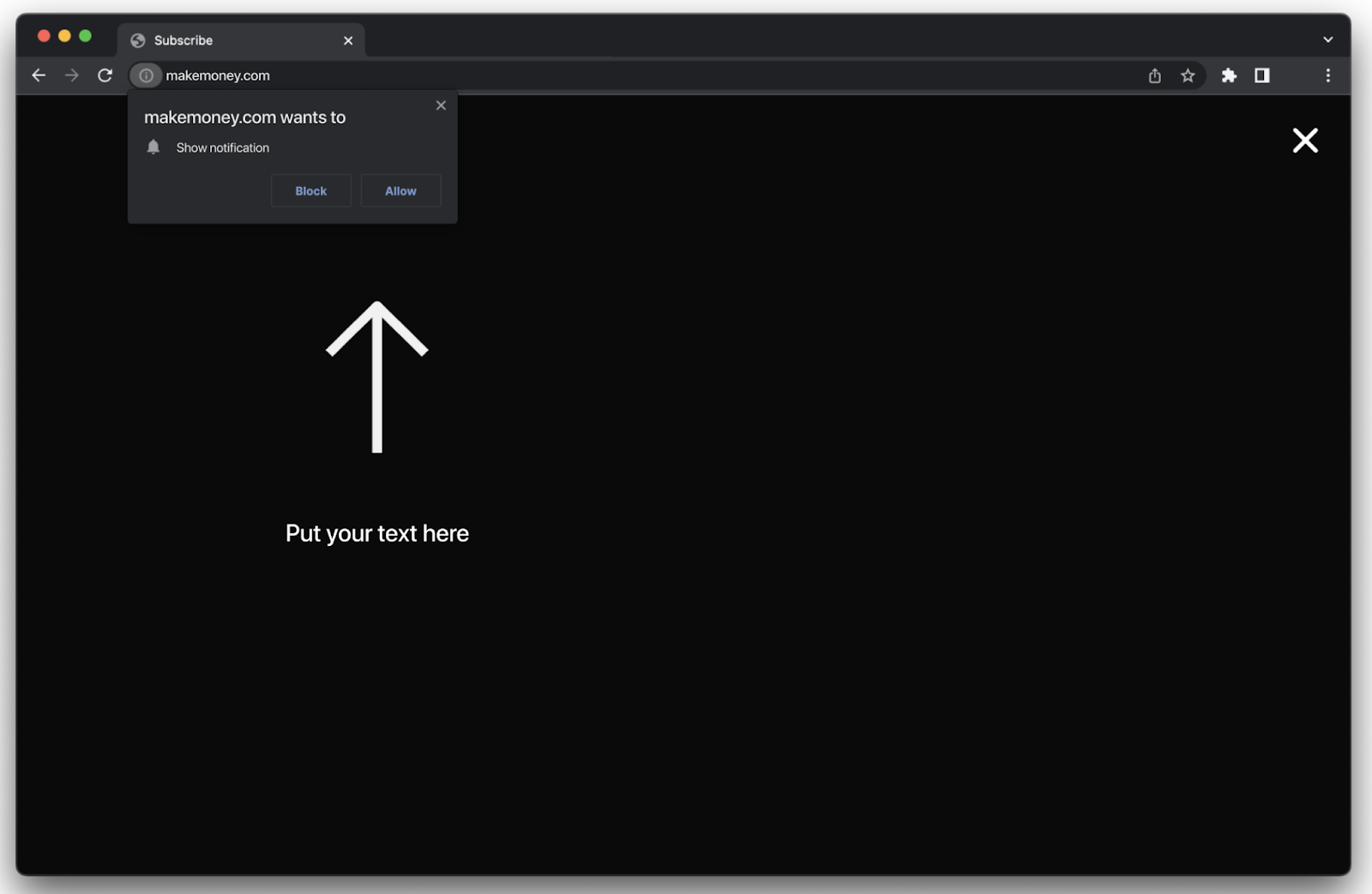 How Much Money Can You Make with Push Notifications
There are two essential things to be aware of right at the beginning:
Your income is directly related to the volume of traffic on your site. The larger the base of subscribers who receive notifications, the greater the potential earnings.
The base, and as a consequence, the income will grow gradually. If the income is small during the first few days, be patient and wait to develop a more extensive user base. To speed up this process, you can use other advertising formats to increase your site's traffic.
As an example of how much you can earn, here is a case study of one of our clients.
Background
With monthly traffic ranging from 500k to 3 million, Nicos Michaelides owns more than 170 sports broadcasting websites, e.g., https://fussballlivestreams.de/. His websites feature the broadcasts of specific clubs'. About 70% of the traffic is organic, with about 30% coming from direct links from betting sites. The open rate of the messages is 3%.
Nicos worked previously with another platform, but the results weren't always satisfying. He was struggling to retain subscribers and generate consistent revenue. The monthly revenue with the previous provider was $1000-1500.
In six months of working together, Nikos was able to increase his revenue six-fold and get the following results:
Average monthly revenue has grown up to $6000.
Monetization has brought up to 70% more value.
For over half a year, everything has been working and making money automatically.
How we achieved that
Our manager offered to test a hybrid variant, where in addition to the classic monetization, we connected automatic push notifications with game announcements and the latest news. We used our subsidiary web-push notifications service for that, i.d., The Sender.
This format is only one of the possible monetization strategies. Our managers will help you choose the best option.
Conclusion
Push notification ads are an excellent way for publishers to monetize their website traffic. By partnering with RollerAds, you can earn money without having to devote significant time and resources to creating and managing ads. Push notifications have almost no impact on UX and can be tailored to specific categories and frequencies, making them an effective and efficient form of monetization.
Ready to grow your income? Start monetizing your website with RollerAds!