Hello!
We continue to introduce you to our amazing team members. Today, we'd like you to meet Inga — our HR specialist. The interview turned out to be very inspiring and filled with a genuine passion for her work.
Enjoy the read!
Q: What do you do for RollerAds?
A: For two years straight, I've been in charge of human relations. I look for potential employees and ease their adaptation by explaining bolts & nuts and making sure they feel comfortable.
On top of that, I organize internal meetings, bring in new initiatives, aimed at improving the interactions between people in the company, and handle various social interactions.
Q: How did you get into this sphere?
A: I joined HR by accident. A friend of mine from an IT company invited me as a recruiter for their new branch office in my town. I had no prior experience, but after the interview, the managers saw the potential in me. The company was into outsource development. So, I dived into the world of IT and development — learned many things about various directions, programming languages, and databases. More importantly, I got to know the aspirations of web developers — their criteria when choosing a job position.
Q: Will you tell about your background before recruiting?
A: Initially, I dreamt about being a programmer. I was fond of the IT classes at school. This is where I realized I wanted to code, so I decided to apply for a technical university. I tried optical engineering first, but after a year of studying I ended up uninterested, so I switched to informational technologies. It helped me to obtain a solid foundation for future communication with developers.
Q: Have you thought about going back to that goal and start coding yourself?
A: I let this thought go, since HR is my calling. I am into soft-skills, not the hard ones.
Q: Tell us how your journey at RollerAds started?
A: I was contacted by a side recruiter, who invited me for an interview. At that time, I had two offers on the table and, as you can guess, I chose RollerAds — I still believe this has been the best choice of my life so far. Passing the testing period, I even wrote a letter of gratitude to the recruiter, who offered me a position. For two years already, I feel as if the position fits me like a glove.
Q: Why were you hired?
A: Originally, I had to do IT recruiting, since I had relevant experience. As we are all aware, one shoulder of mutton drives another down, so my range of responsibilities began to grow quickly. I opted for HR development, which was non-existent before.
Q: What do you like the most about RollerAds?
A: Virtually everything, but here is my top-3 list:
People. The only fact that the majority of them was found by me fills me with joy. I like seeing how people grow: their unveiling, career development, feeling just in place.
RollerAds deliver a lot of freedom and space. It's not about chaos and lawless anarchy, rather about freedom of creativity. You can bring in the wildest idea possible, which will be listened to and maybe even executed.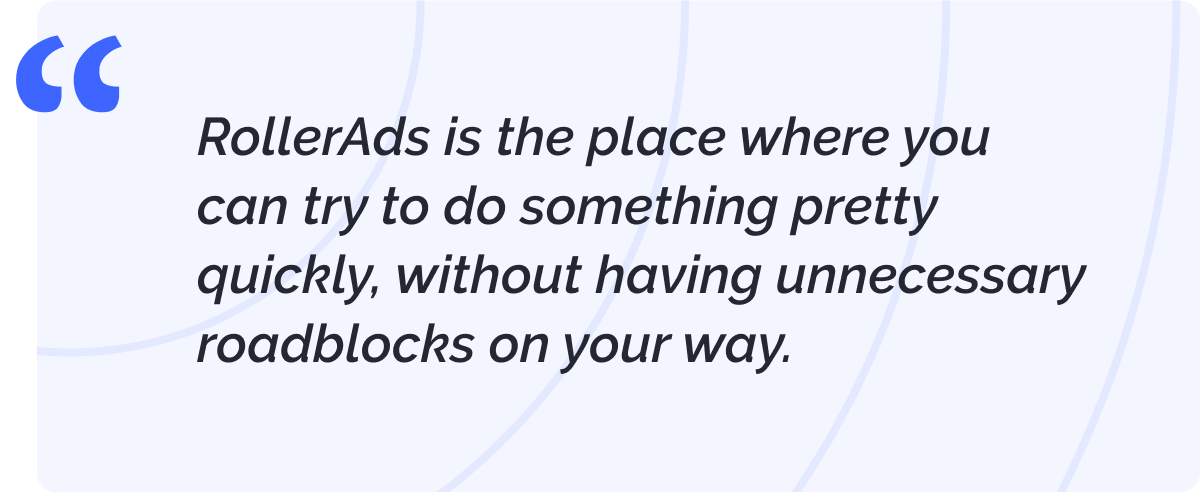 3. The company grows actively and has resources to backbone it. This is the key to implementing many ideas and concepts.
Q: What is your approach to work and profession?
A: The HR specialist is the face of the company, because this is the very first person to greet a potential candidate. The first minutes of conversation shape the candidate's perception of the company.
On top of that, the HR specialist is also a marketer, who presents their company as the most lucrative offer in the market. It's not difficult for me, because I do believe that RollerAds is an excellent company to work with. I consider my merit to be the ability to fascinate a candidate from the get go with my genuine love for the company and strengthen their desire to work here. I don't have a script or plan — I simply communicate, which is why every dialogue is unique and special.
Q: Can you give any tip to those, who want to become a recruiter and HR specialist?
A: A good HR specialist loves people around. This career is all about talking to people, when you need to see them through, counter their worrying, and act as a psychotherapist at times. You also ought to cherish the place you work in, so that you can radiate this affection to new and already present employees.
Q: Do you have a professional and lifetime goal?
A: Honestly, the hardest question for me. I do like my profession and company, and I'd like to develop my competences here. I want to continue obtaining new skill, develop HR processes, and improve them.
Regarding the personal goal, it is about spiritual growth, which affects all parts of life. For me, it is about mental growth and establishing new neural networks — here's a bit of personal philosophy for you 😀
Q: What do you do at your leisure time?
A: If I were not an HR specialist, I'd do cartoons. I adore animation and think it's magic to make the picture moving. Frame-based animation takes the cake for me, when you adjust a picture step-by-step for it to turn into a full-scale movement.
I am also into video games and built a powerful gaming PC myself. Heck, I can even brag about having a high rank in one of my most favorite games — Overwatch. Also, I even have a tattoo, dedicated to Night in the Woods game. I also like to promenade, and do a lap after the work.
Let's extend our thanks to Inga for sharing such a detailed story. We hope this article has allowed you to get to know RollerAds even better, as our company is, first and foremost, about the people who work here.
Stay tuned for upcoming episodes of the series!