Utilities are pieces of software, designed for analyzing (AIDA 64), configuring (Reg Organizer), optimizing (CCleaner), or maintaining (Dr.Web) a digital device. The global utility app market is growing due to the adoption of digital technologies and digital business strategies by various enterprises, and is expected to expand at a compound annual growth rate (CAGR) of 7.5% from 2022 to 2028, reaching $4.7 billion in 2021 and $7.14 in 2023. Utility apps offer a range of solutions that add value, ensure effective operations, and enhance productivity of iPhone and Android applications.
The Asia Pacific region is expected to expand at the highest CAGR of 9.2% from 2022 to 2028, followed by Europe. The market is characterized by the presence of various well-established multinationals and several small and medium vendors, with the Google Play Store segment contributing to the highest share of around 60% of the global market revenue in 2021. During the COVID-19 pandemic, the utility app market gained traction owing to the rising demand for the highest quality standard services.
Types of Utilities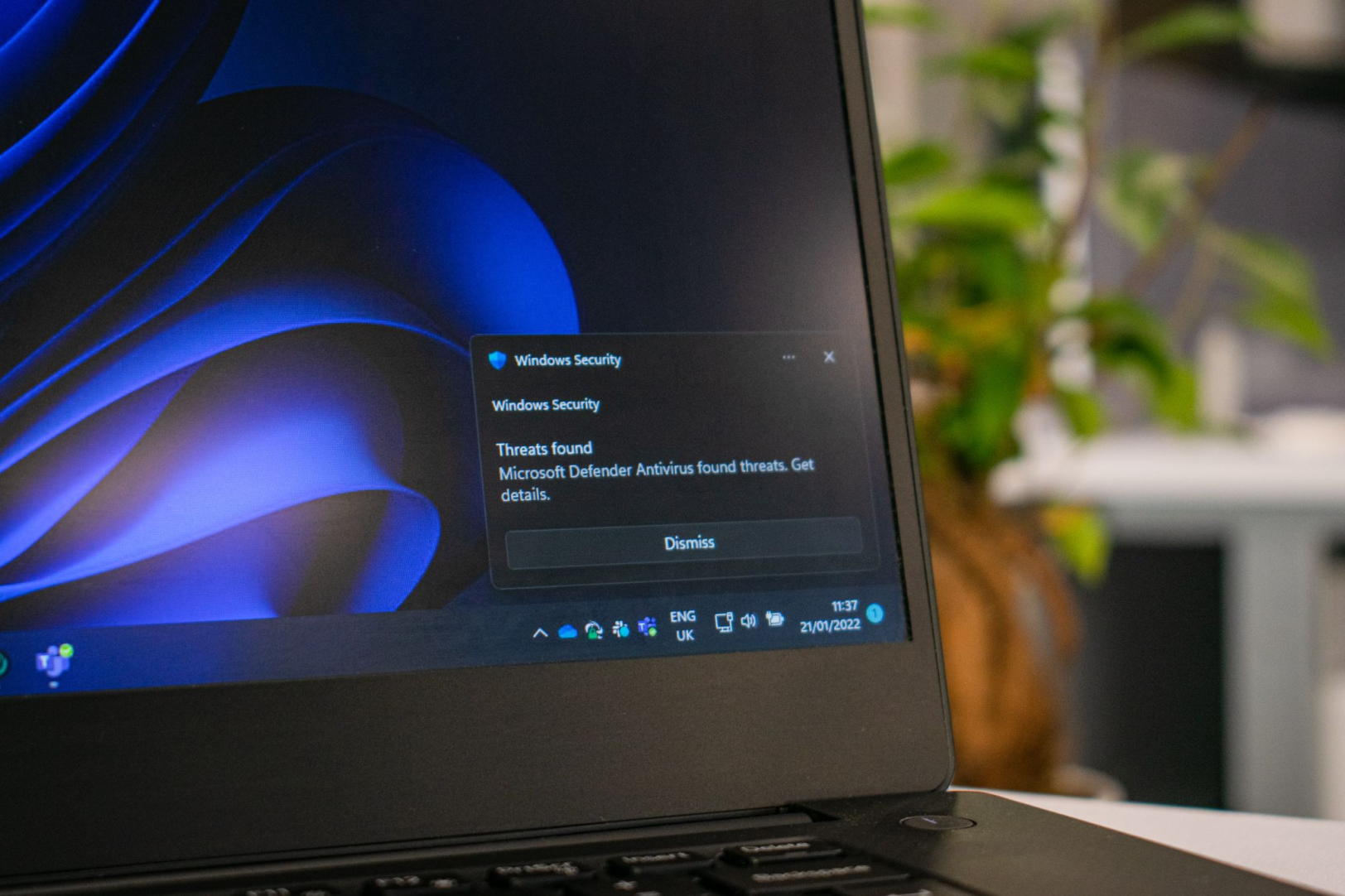 To get a grasp on how vast and diverse the family of utilities is, take a look at the incomplete list of utility software types:
Antivirus and anti-malware software
VPN services
Disk cleanup and optimization software
Driver updater software
Data recovery software
PDF editors
Video editing software
Audio editing software
Image editing software
Backup software
Compression and archiving software
PC system optimization and maintenance software
Password managers
Registry cleaners
System monitoring software
Cloud storage solutions
File transfer software
Office suites
Language learning software
Accounting software
Tax preparation software
Productivity tools
Browser extensions and add-ons
Mobile device management software
Despite their diversity, they all aim at improving UX and simplifying the work with OS.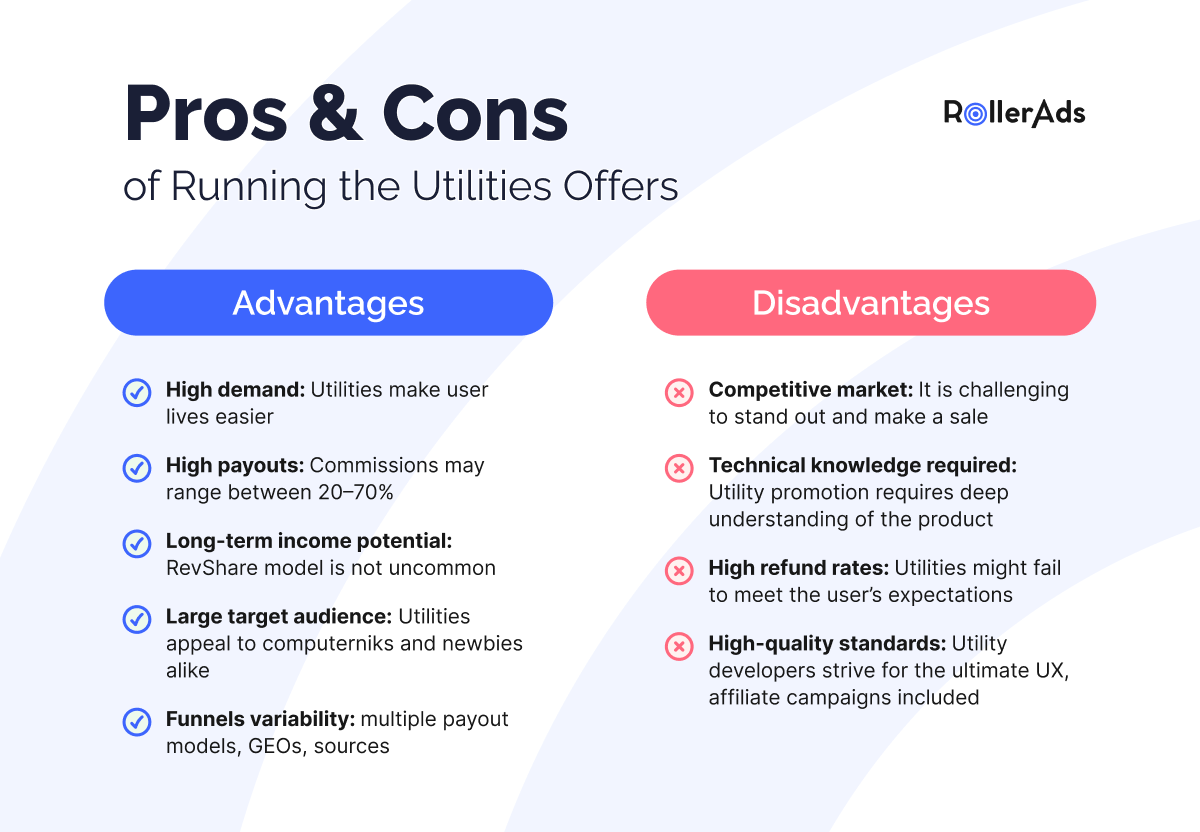 7 Steps to Choose the Right Utility Offer
Choosing the right utility offer for affiliate marketing involves several considerations. Here are some tips to help you out:
Identify your target audience: Utilities are niche products, therefore the audience will also be very specific. Try to find a YouTube video, covering the features of the wanna-be promoted product. This way, you will get a crash course on the product and narrow down the potential audience.
Research available offers: Look for offers that have a high conversion rate and a good payout structure. A single RevShare of 50% is a veritable fortune, considering the user are to pay a monthly subscription.
Check the offer's reputation: It's important to work with reputable affiliate programs that have a proven track record of success. Look for reviews and testimonials from other affiliates to determine the reputation of the offer.
Consider the offer's competition: Assess the competition for the offer. If there are already a lot of affiliates promoting the same offer, it may be difficult to stand out and generate significant revenue.
Look for offers with good marketing support: Choose the offers that provide marketing materials and support to help you promote the offer effectively. This can include email templates, banner ads, landing pages, and other promotional materials.
Consider the offer's GEO: Think about the geographic location of your target audience and choose an offer that caters to that specific region.
Get to know the product promoted: As mentioned earlier, it is good to understand the product's essence. Even if you don't intend to provide active customer support, this knowledge will help you out in tweaking the creatives and communicating in the language of the audience.
By taking these factors into consideration, you can pick the right utility offer for your affiliate marketing campaign.
Picking and Promoting The Utilities Offers
Many affiliate networks, including our side project — CPA Roll, provide some cool offers. They are paid out, using Cost-per-Action (CPA), Cost-per-Sale (CPS), and RevShare models. Up to $100 per conversion can be earned, when it comes to flat fee; as for RevShare, 50% is a norm and not an exception. Regarding CPA Roll, you can find unique and awesome offers there, which can be launched on RollerAds on some lucrative terms.
Utilities can be promoted in several ways: social media ads, paid ads (PPC), and organic content (SEO) — are all perfectly viable options. When it comes to PPC, Redirects, OnClicks, and Push Notifications are among the top-performers. Push ads, particularly in-page push notifications, are highly malleable and resemble system notifications, making them ideal for promoting VPN offers and other software offers.
Advertisers use push notification ads to promote antivirus, VPN, and other utility apps by creating urgency and convincing users that their device is in danger of being hacked. Scare tactics may not be allowed on all push ad networks, so other techniques such as toning down the message may be used. A leading example of utilities would be the McAfee offer, where warning signs and McAfee icons are effective creative approaches.
Selecting and Optimizing the GEO
Choosing a specific GEO might be troublesome, here are a few steps you can follow:
Research the market: Start by researching the market in the specific GEO you want to target. This includes understanding the local culture, language, buying behavior, and demographics.
Find relevant utilities: Look for utility offers that are relevant to the needs and preferences of the target audience in the specific GEO. This could include local utility providers, services that cater to the unique needs of the region, or products that are popular in the area.
Choose the right network: Choose an affiliate network that operates in the specific GEO you want to target. This will ensure that you have access to offers that are relevant to that region.
Use targeted keywords: When creating marketing campaigns, use keywords and phrases that are specific to the GEO you are targeting. This will help to attract the right audience and increase your chances of converting leads into sales.
Optimize landing pages: Create landing pages that are optimized for the target GEO. This includes using language that is appropriate for the region, showcasing local testimonials, and highlighting the benefits of the utility offer for that specific audience.
Localize ad creatives: If you're using ad creatives, make sure they are localized for the target GEO. This includes using images and language that are relevant to the region, and highlighting the unique benefits of the utility offer for that audience.
By following these steps, you can effectively target a specific GEO with utility offers and increase your chances of success.
Conclusion
Utilities are a diverse family of software that aim to improve the user experience while interacting with the operating system. Running utility offers in affiliate marketing can be advantageous due to high demand, large target audience, and high payouts, but also presents challenges such as high refund rates and competition. But when you know your offer and GEO, this should not be a problem.