We wrote an article on our blog about tracking in affiliate marketing, including benefits, common methods, challenges, and solutions. Unfortunately, space constraints prevented us from writing the actual compilation of tracking software. Well… time to fix this injustice and tell you about some of the best tracking solutions that we were able to discover online in 2023. Before delivering the list itself, we want to make a quick recap of what the tracker is and why bother in the first place.
The importance of tracking
In marketing, there is always a lag between the decision made and the result obtained. A seemingly profitable campaign might start to break down already, because the average revenue per user is dropping. Or your CPA might be piercing through the roof, but thanks to the sheer increase in reach, your campaigns continue to bring in profit, just like before.
In order not to manage your campaigns blindfolded and start doing things professionally, you need to know the key performance indicators (KPI). They can be calculated manually, but it is a tedious and unnecessary task, since everything has already been automated for you. Meet the trackers, a robust solution to measure all the vital metrics of your campaigns, record all your conversions fired, and assure the humbleness of an affiliate program.
The affiliate programs usually provide a tracking solution of their own, but it is always good to set up a 3rd party tracker, so you can compare the results. This way, provided you set up your tracker right, you can always detect if you are being "shaved" and stop scamming on its tracks. Even if nobody cheats, tracking can provide you with the data that highlight the weak spots in your campaign that are to be improved.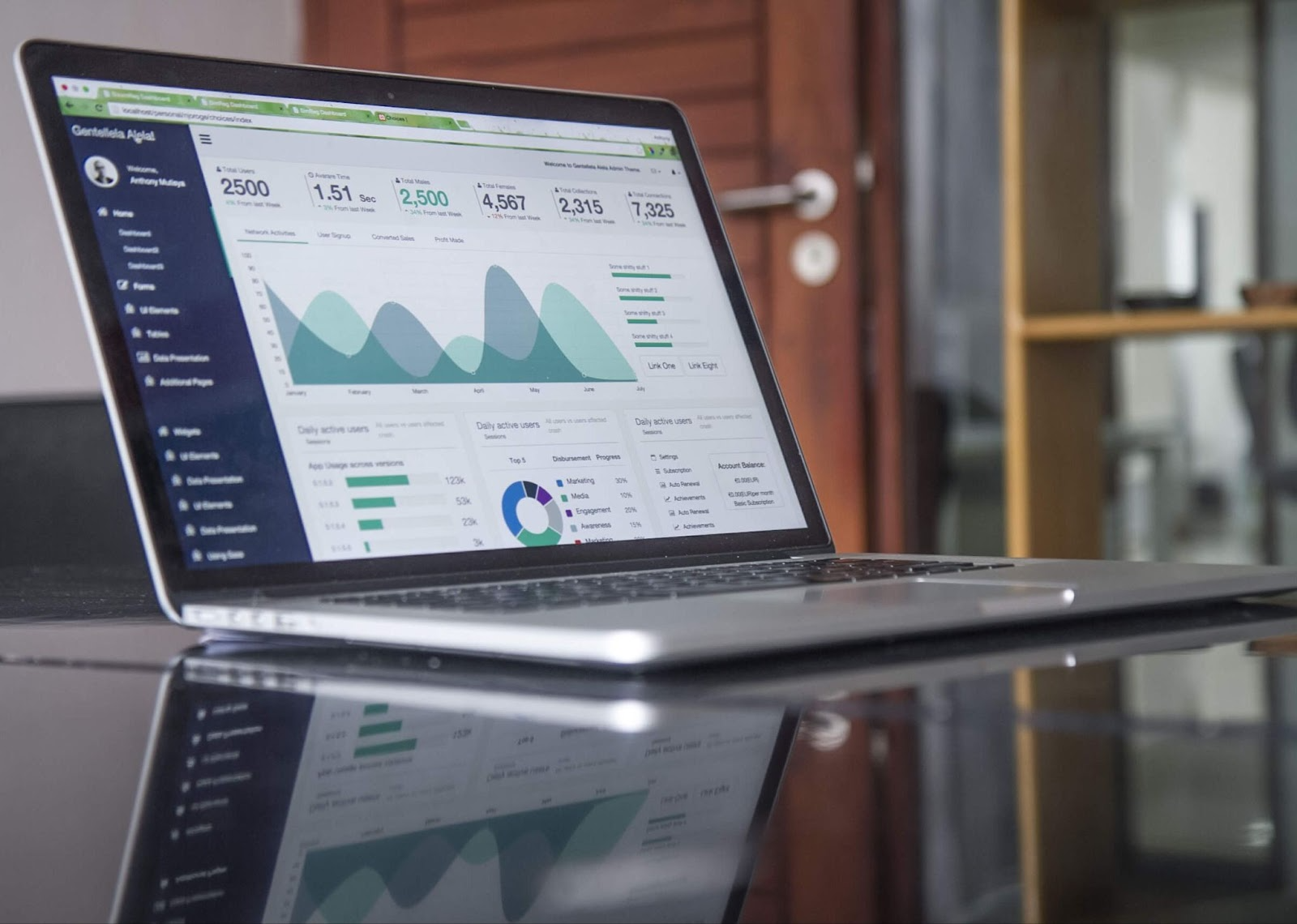 The Compilation of Trackers
With the importance explanation out of the way, it is time to focus on the practical part of the article — the trackers. We decided to split this section into the trackers that offer a free plan and those that don't. Below is the table with 17 tracking solutions, arranged alphabetically. Due to the space constraints, we will elaborate only on some of the most popular and interesting ones, leaving the rest for you to explore.
Boost e-commerce sales with Affiliatly's user-friendly affiliate tracking software. Take control, track performance, upload image banners, and pay affiliates with gift cards. Effortlessly integrate with popular platforms like Shopify, BigCommerce, and WooCommerce. Start with a 90-day free trial and experience Affiliatly's convenience and quality.

ClickMeter is a versatile tracking solution designed for agencies, affiliates, advertisers, publishers, and developers. It offers over 100 features including redirect options based on location, language, device, and user type, link cloaking, conversion tracking, split testing, and comprehensive analytics. Affiliates benefit from detailed view and click tracking, conversion tracking, and customizable reports. With its cutting-edge technology and 15 years of experience, ClickMeter provides accurate, reliable, and scalable tracking to optimize affiliate marketing campaigns.

Keitaro is an essential advertising tracker for affiliates, offering complete control, optimization, and protection of traffic. With integration capabilities for over 120 traffic sources, it enables efficient statistics collection, data transfer, and multi-offer tracking. Keitaro provides flexible traffic distribution, real-time updates, customizable reports, and built-in bot protection. Its stability, reliability, and strong technical support make it a trusted choice among affiliates for maximizing profitability and reducing costs in their campaigns.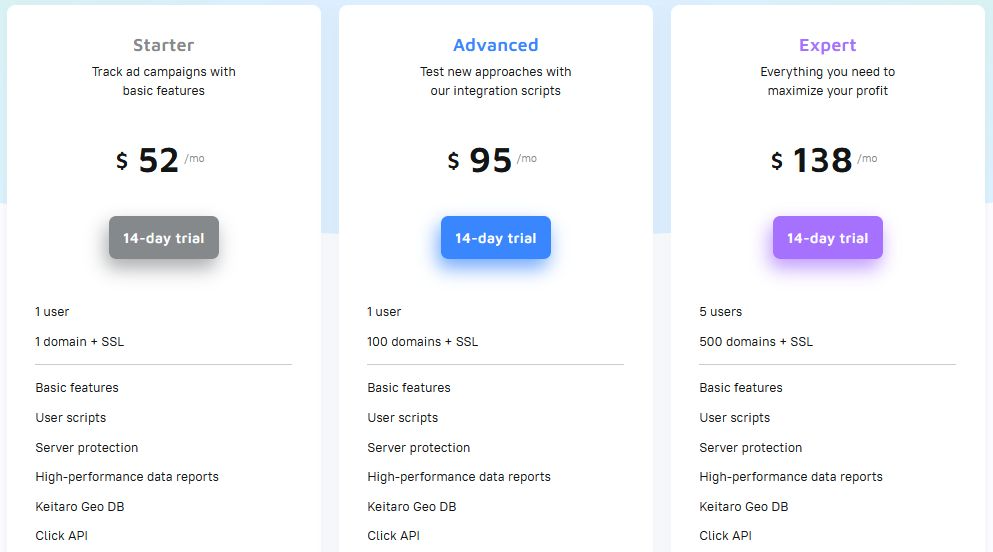 CPV Lab Pro offers a range of advantages for affiliates. It provides comprehensive tracking across multiple traffic sources, allowing for data-driven decisions. The platform offers flexibility in testing campaigns and real-time optimization. It handles heavy traffic and provides a user-friendly interface. CPV Lab Pro ensures data privacy and offers detailed mobile data insights. It incorporates innovative tracking technology and integrates seamlessly with major traffic sources and affiliate networks. Overall, it is an essential tool for tracking, optimizing, and increasing ROI in affiliate marketing.

Voluum is a comprehensive ad tracking tool designed for affiliates, offering a range of advantages to optimize and streamline their campaigns. With integration capabilities for over 70 ad platforms, including Google Ads, Facebook, Propeller Ads, and more, Voluum connects all elements of your campaigns together. It provides detailed data on visitors, conversions, and various metrics in real-time, allowing you to monitor and analyze the performance of your ads across different traffic sources.
Voluum offers features such as Traffic Distribution AI to optimize campaign performance, Anti-Fraud Kit to detect invalid traffic, and Automizer for rule-based automation. Additionally, it supports teamwork with features like Additional Users, Workspaces, and Shared Reports. With dedicated support, onboarding, and industry partnerships, Voluum is a trusted solution for managing and scaling your advertising efforts effectively.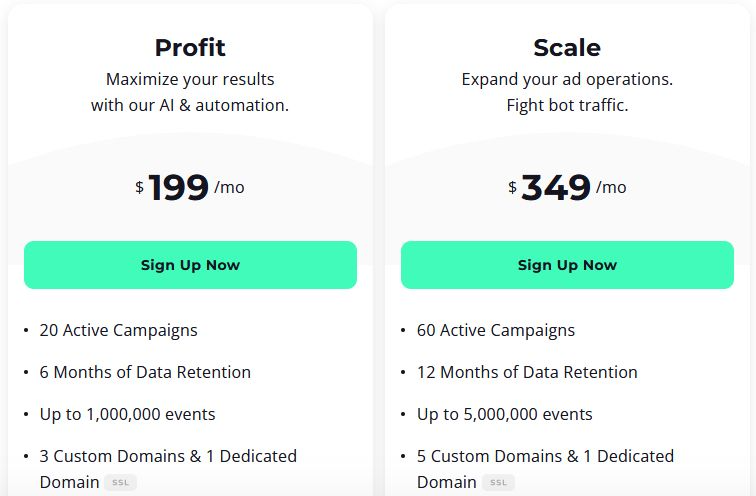 Post Affiliate Pro is an affiliate marketing software with flexible pricing plans. The Pro plan ($129/month) is for simple programs, Ultimate ($249/month) for more elaborate programs, and Network ($599/month) for building an affiliate network. All plans include a free trial, unlimited affiliates, advanced reporting, and lifetime support. The software offers features like customizable interfaces, integration with popular platforms, and tracking tools. It's easy to implement and helps businesses manage and optimize their affiliate programs effectively.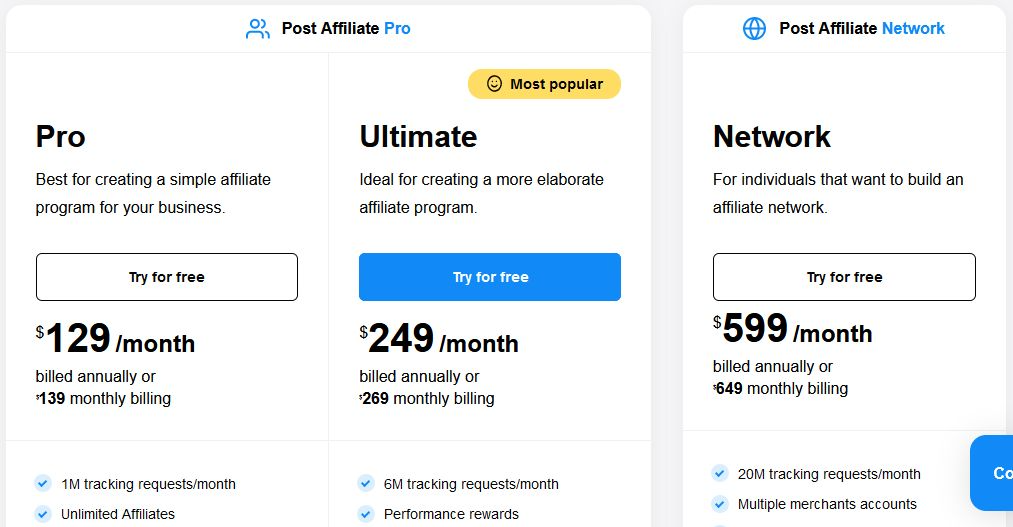 RedTrack is an ad tracking and automation tool that helps businesses measure, manage, and optimize their ad campaigns. It offers features such as tracking and attribution, reports and insights, partner marketing, automation, and integrations. RedTrack is chosen by media buyers worldwide for its ability to handle large amounts of ad data and provide a comprehensive view of campaign efficiency. It supports tracking on platforms like Facebook, Google, TikTok, and others, even after the iOS 14 update. The platform offers accurate data, custom reporting, and automation capabilities to scale ROI.
Additionally, RedTrack provides a partnership portal for tracking and analyzing performance beyond paid ads, allowing businesses to work with publishers, referrals, and influencers. With its advanced features and integrations, RedTrack helps businesses optimize their advertising efforts and improve their return on investment.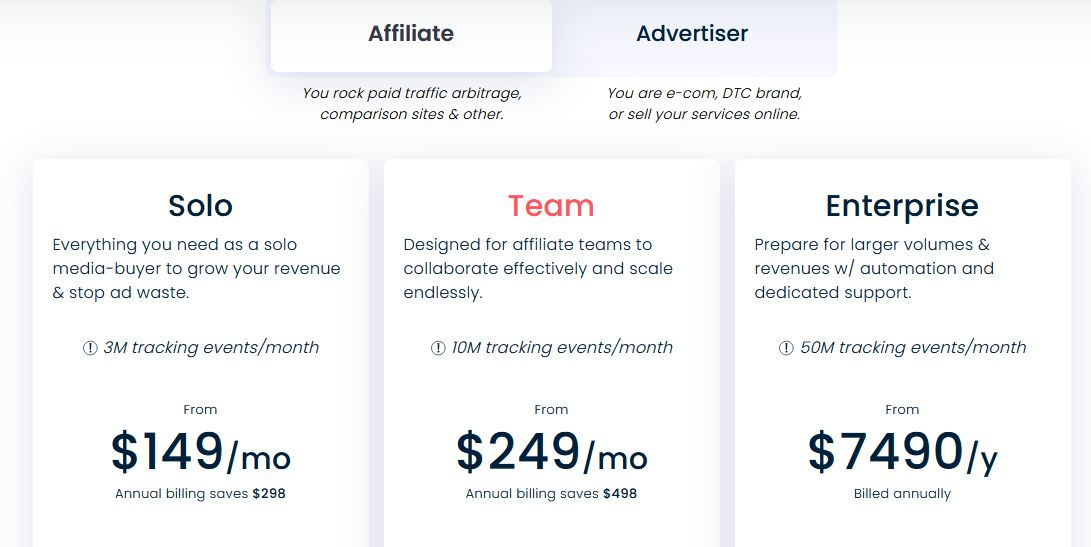 Conclusion
Trackers are numerous, hopefully, our article has just proven that. Even though we were not able to cover every tracker mentioned in the article, it is still worth noting that every tool is unique. If you feel dissatisfied with your current one, then it might be the right time to explore the alternatives, try out other solutions, and pick the one that matches your needs perfectly. Sometimes, you can pick even more than just one, just to be on the safe side!
Whichever tracker you use, make sure it complements your work, and you are not the one working over overcoming the cumbersome design and structure of a tracker. At the end of the day, only your profit matters, and a good tracker must cater to that specific need.