Latin America has earned its rightful place in the hearts and minds of the humble affiliates, publishers, and marketers of all kinds. This is a very lucrative market with great internet adoption rate and the audience that is yet to get used to complex ads. In this article, we will define the LATAM market first, then provide some essential facts about the GEO, and top it all with the tips & hints we have at hand. Join us in our quest for El Dorado and profit. Just make sure not to fall victim to Montezuma's revenge.
Defining LATAM
Latin America is more than just South America and incorporates some North & Central America countries, as well as Caribbean communities. As a rule of a thumb, Latin countries speak at least one Romance language, i.e., Spanish, Portuguese, or French. Latin America is a vague term, which is why the number of countries represented may vary, depending on the definition used. Here is the list of 34 countries, generally considered to be Latin America.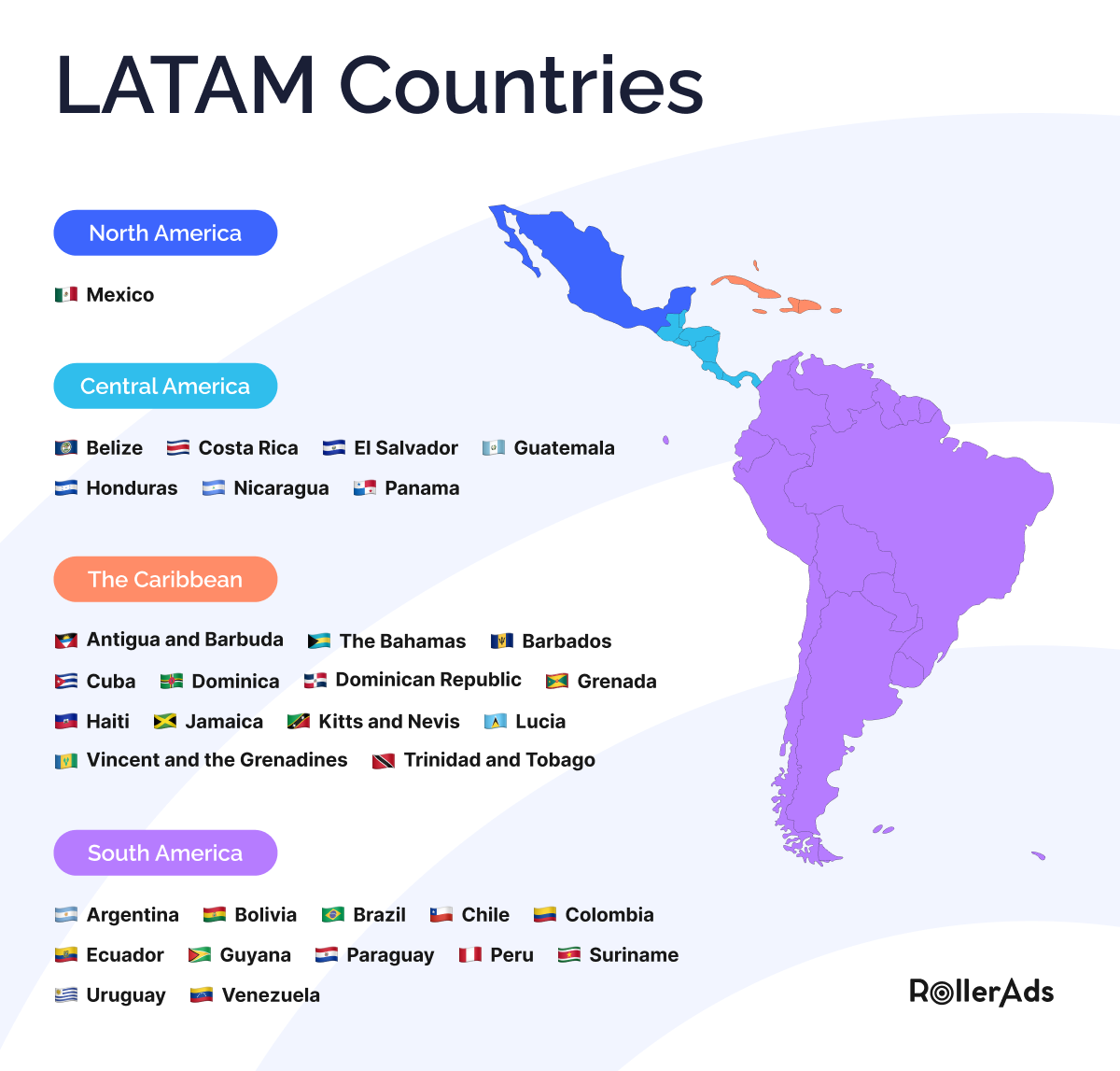 Quick facts about LATAM
Total population: 671,416,812 (As of June 7, 2023), or 8.35% of the world
Official languages: Spanish (the majority), Portuguese (Brazil), English, French, local dialects
Top largest cities by population:

São Paulo (Brazil) = 22.6 millions
Mexico City (Mexico) = 22.2 millions
Buenos Aires (Argentina) = 15.5 millions
Rio de Janeiro (Brazil) = 13.7 millions
Bogotá (Colombia) = 11.5 millions

Dominant religions: about 70% of Catholics and 20% of Protestants (90% of Christians)
Top countries with the highest average net salary per month (in U.S. dollars):

Puerto Rico = $1,794.27
Trinidad and Tobago = $821.88
Panama = $708.6
Costa Rica = $703.96
Uruguay = $691.86

Local time zones: GMT-3 (Argentina)–GMT-8 (Mexico)
Digital marketing data
Well over 80% of LATAM population is urbanized, i.e., lives in the cities. However, the internet penetration rate accounts for about 60% of the total population. Together with the Caribbean, Latin America has about 533.2 million internet users, which is the 4th place in global ranking. Here is the chart with the percentage of the households with fixed internet connection:
Among all the LATAM subregions, South America has the highest internet penetration rate. It should also be noted that the median age equals 31 years precisely, rendering the whole target audience relatively young. Mobile and desktop traffic maintain the parity of 50–50%, with the former holding a slight edge over the latter:
Via: StatCounter
Among the most popular social platforms are:
With more than $5.29 billion of investment in social media ads in 2022, the Latin America is a veritable haven for digital advertising. Speaking of which, let's get to know country specifics, the most popular verticals, and suggestions on how to prepare your funnels.
Top verticals
When thinking about taking pride in masculinity, Latin America pops up the first in mind. After all, the word "Macho" is a Spanish word — the official language of more than a half of the local countries. Be mindful of that when making your campaigns and design your creatives accordingly. Since their childhood, local men are taught to follow the code of "Machismo" — a set of rules to be self-reliant, independent, strong, protective, and dominant.
Keep in mind that the population of urban areas have access to the medicine and food of quality, unlike their rural peers. In this regard, a nutra offer with a certified doctor advocating for the product will be much better received in capitals and major cities. On the other hand, a herbalist sharing an ancient recipe will be more welcomed in the countryside.
Poor food and water quality, rapid urbanization and subsequent pollution, sedentary lifestyle, and cultural specifics are the most common causes of such diseases as cirrhosis, diabetes, hepatitis, cardiovascular problems, or cancer. Regarding the culture, Latin America is praised worldwide for cigars and rum, which can be damaging to health. Which is why any nutraceutical promising to remedy one of the problems above is bound to find its audience.
Latin America unites many countries with traditional values, which is why family-oriented creatives perform relatively well. Blood or sugar control pills, hearing or eye supplements — they are all good at converting the younger generation of 21+, willing to help the elder relatives. When running nutra, health & beauty, or eCommerce offers, consider the following approaches:
A piece of news on a medical blog, where an expert claims to have found a groundbreaking solution, no one ever tested before
Classic nutra landing, where all the problems the product is to solve are addressed right off the bat
An interview with a doctor, who answers FAQ, shows statistics, and enjoys positive feedback; yet remember that rural areas might not have access to medicine at all
Of course, the abundance of alcohol and cigars is a good reason to have some fun. Which is why dating, gaming, and betting & gambling are also popular. Latin America is a hot GEO, marked by its explicit masculinity, which is why local people are passionate and daring. They are risky, and even if not, the society forces them to demonstrate it. Take advantage of this passion, and even lust, in your creatives and you should be golden.
Don't forget about the 4th highest pool of the internet users in the world. Half a billion of active users assure high demand for gaming, utilities, and antivirus software offers.
Tips & Hints
To ease your understanding, we decided to make a list of the tips on how to work with the LATAM market to maximize your profit.
Betting, gambling, gaming, and utilities are some of the most lucrative verticals
When working with utilities or VPNs, target mobile devices with Popunders and In-Page Pushes; focus on Brazil, Mexico, Colombia, Argentina
When working with iGaming, target any devices with Popunders; focus on Brazil, Argentina, Colombia, Mexico, Peru
Additional niches you can try out in LATAM are finances, e-commerce, CC submits
Translate your creatives — usually it's either Spanish or Portuguese
On average, LATAM countries are iGaming friendly but always consult the local laws as there are some exceptions and nuances
Brazilians are proud of their nation, so use corresponding yellow, green, and teal colors in your creatives
As for the payout models: CPM is best reserved for the payouts for deposits, and CPC is for installs, clicks, and free trials
LATAM is remarkable for its large traffic volume, reasonable bids, and high engagement rate. Should your first-tier creatives cease to convert at the initially designated GEOs, consider using those creatives again here. LATAM audience is less picky about the ads, making the lives of advertisers easier.
Conclusion
LATAM is a lucrative market for affiliate marketing with high internet adoption and a receptive audience. Key verticals include masculinity-related products, nutraceuticals, family-oriented creatives, and entertainment niches. Brazil and Mexico are prominent e-commerce markets, and successful strategies involve targeting specific devices and countries, translating creatives, and adhering to local laws. By understanding the market and tailoring campaigns accordingly, advertisers can tap into this thriving market.